Main:
1 lb Mitch's Catch Spot Prawns

1 lb asparagus

Zest of ½ lemon
For minty sweet pea puree:
3 cups frozen peas

3.5 tbsp lemon juice

Zest of 1/2 lemon

2.5 tbsp Extra Virgin Olive Oil (EVOO)

Big pinch of salt

3 tbsp water

6-7 mint leaves16 oz jar marinated roasted peppers, drained
For warm orange-shallot vinaigrette:
2 tbsp olive oil

2 tbsp orange juice

2 tbsp high-quality white wine vinegar or lemon juice

1/2 shallot (2 tbsp) minced2 scallions, cut in half lengthwise, then crosswise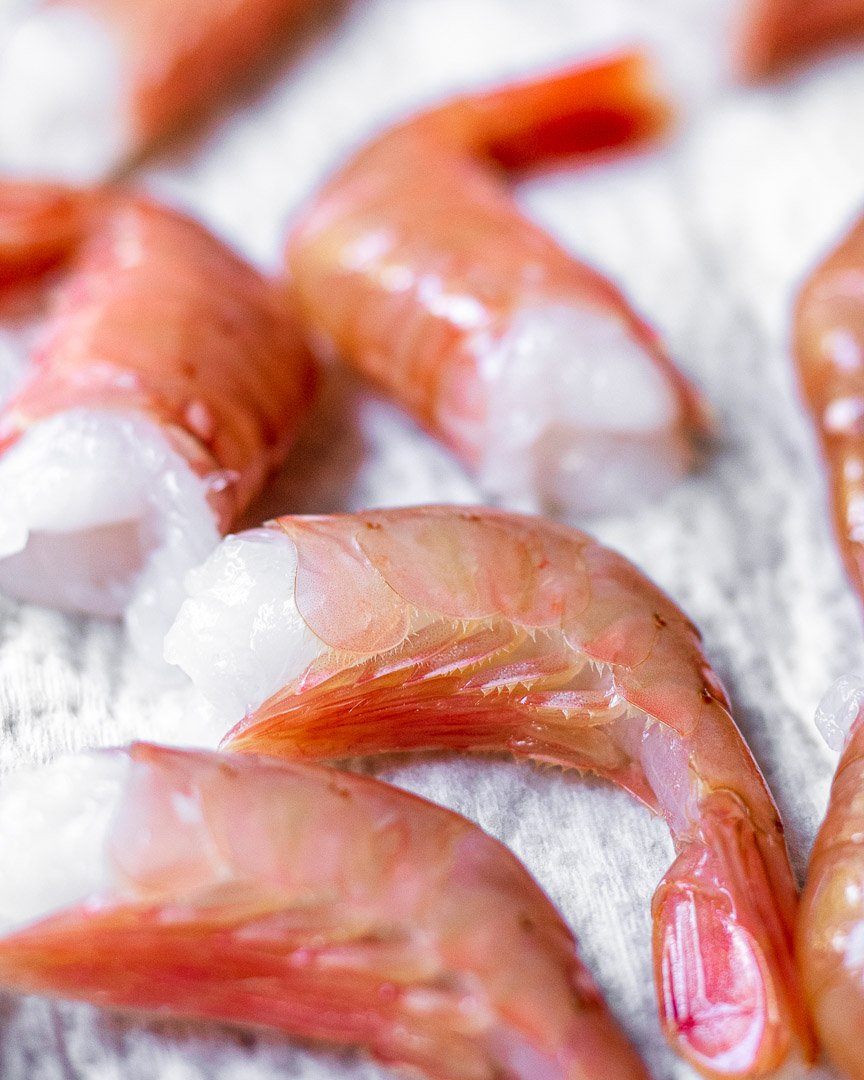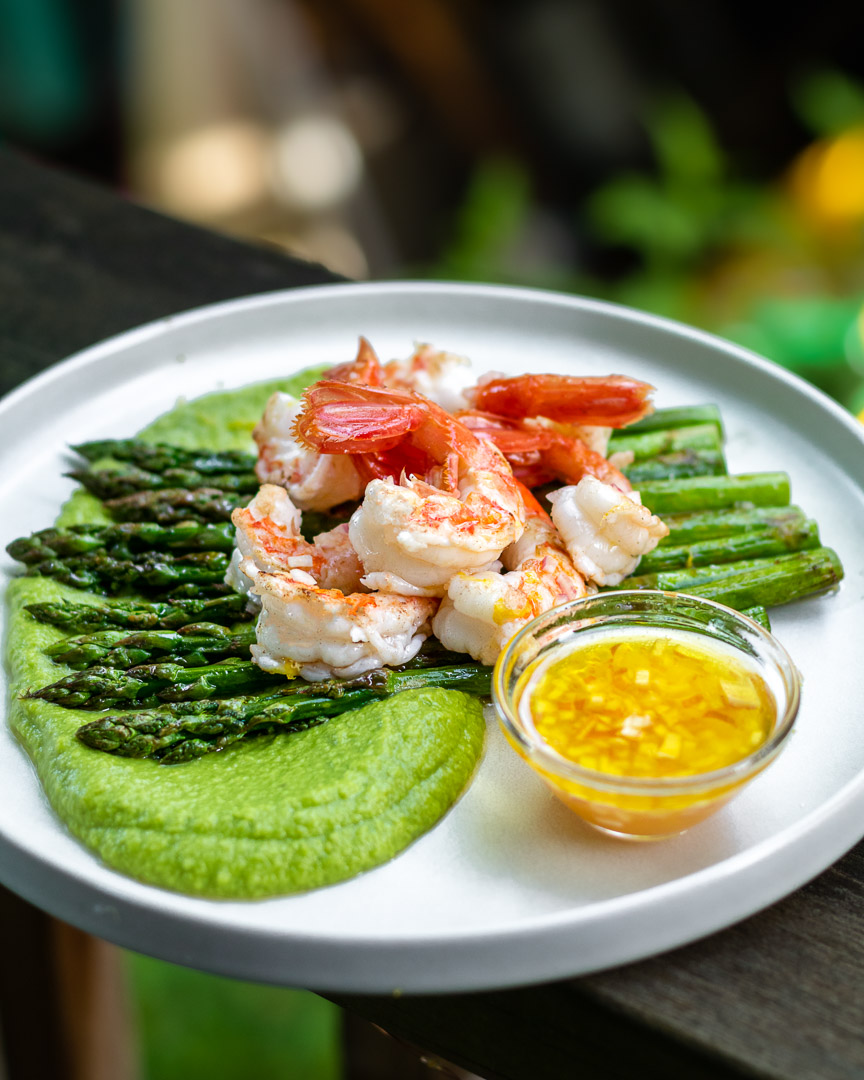 Peel the prawns and place them on a kitchen/paper towel so they dry well before sautéing. Tip: To facilitate the peeling process, use kitchen shears to cut the shell on each prawn's back along its length to the tail, then remove the shell. 1. Snap the dry ends off the asparagus (the asparagus will "guide" you on where exactly to snap, so you don't remove too much or too little). If you wish, you can slightly trim the uneven ends with a knife. Thoroughly wash the asparagus and set it over a dish towel so it dries well.

In a small pan, heat 1 tsp of EVOO over medium heat. Add frozen peas and a pinch of salt. Stir them constantly, until the peas just warm through and turn bright green. Immediately transfer peas into a blender cup (don't let them sit in a pan, otherwise they'll turn dark and lose their bright flavour). Add the rest of the puree ingredients and blend until completely smooth. You might need to add a little more water depending on your blender's power.

In a small pot, whisk all of the ingredients for the vinaigrette and set over medium heat until it just warms through. Remove from the heat, add minced shallots, and set aside.

In a large pan, heat 1 tbsp of EVOO over medium-high heat. Add asparagus in one layer (work in batches, if needed) and sautée, until it's slightly charred and still crunchy. When asparagus is in season, it should take about 4-5 minutes. Transfer onto a plate, salt generously, and drizzle with 1 tbsp lemon juice. Garnish with lemon zest making sure not to use any white part as it will add a bitter taste.

In the same pan, heat 1 tbsp of EVOO over medium-high heat. Add spot prawns and cook for about 20-30 seconds per side. Salt well just before removing from the pan. Serve over a pillow of pea puree and a generous portion of asparagus with a side of orange vinaigrette. Bon appetit!
Prepared, shot & styled by the talented chef, Olesia Guts.