SEARED SESAME CRUSTED TUNA SALAD
Main:
1 lb Mitch's Catch tuna loin (½ of loin)

1 tbsp sesame seeds, roll tuna loin in sesame seeds

Mitch's Catch The Marinade

Mixed greens for salad base

1/2 cucumber, sliced with a cheese grated then rolled to create ribbons

1 avocado, sliced

1 cup edamame beans, thawed and salted

1/2 cup picked ginger (we like Sushi Ginger from the Ginger People, available at the Locker) 

1 radish, thinly sliced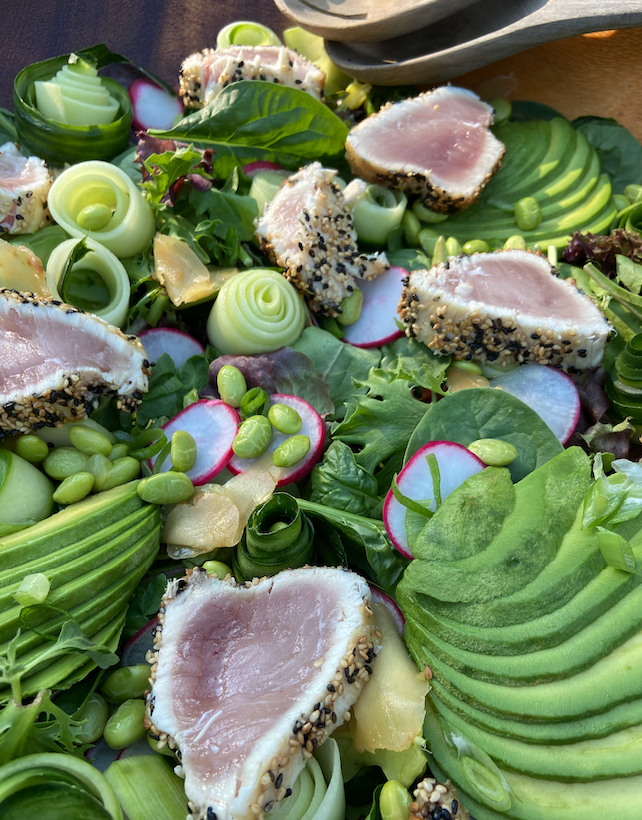 Thaw 1/2 Mitch's Catch tuna loin on a glass plate or bowl the night before or morning of when you plan to serve/ enjoy.

Place sesame seeds (you can choose black or white or a combination) onto a plate and mix together. Roll your tuna loin to coat all sides in sesame seeds.

Heat 1-2 tsp sesame oil in a frying pan over medium-high heat. Carefully place tuna into pan and cook for 30 secs on each side, or until seared on the outside but still pink in the middle.

Remove from pan and allow to rest before slicing (about 10 mins).

Build your salad! Place mixed greens in a bowl or plate. Arrange cucumber ribbons, radish slices, edamame beans, pickled ginger, sliced avocado and sliced seared tuna.

Dress with The Marinade and toss to enjoy!