Main
1 Mitch's Catch Tuna Loin (cut in half for easier frying)
Garnish & Sauce (optional):
The Marinade

Sesame seeds

Micro greens

Chives

Ginger

Soy sauce
Important Prep Note:
Remove Mitch's Catch Tuna Loin from your freezer, take it out of the sealed packaging and place in your fridge the night before you want to enjoy it (morning of works too!). Remove the belly (this is Toro) if your loin has one—this makes the loin easier to sear, and the Toro is a delicacy on its own.
HOW TO
To sear your Mitch's Catch Tuna Loin, here are three options to get you started:
Brush a small amount of oil on each side of the loin.
For sesame crusted: cover your loin in sesame seeds once you've oiled it.
For marinated: brush a small amount of The Marinade on each side.

Heat up pan so when you add a drop of water, you hear a sizzle.

Place tuna loin in pan and watch how the bottom will start to lighten.

Turn loin, do the same, then turn again, so now all 3 sides are now white. This happens very fast, so you need to control how rare you want your tuna to be on the inside. More rare, less frying. Less rare, fry a bit longer (see FAQ).

Move loin to a cutting board.

Let rest for 1 minute, then slice into 1/4" thick slices.

Add your desired garnishes and sauce.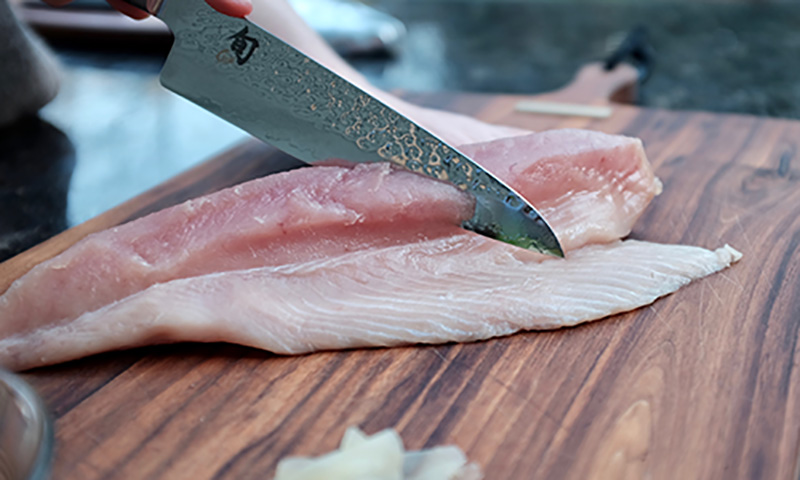 If your loin has a belly flap, cut it off before searing. This is Toro! Cutting this part off makes the loin much easier to pan sear, and this part of Toro is great to enjoy on its own.