1 small Mitch's Catch Tuna Loin (~0.250-0.300kg)

1-3 Calabrian chilies depending on spice level desired, chopped or 1 tbsp Chili P

1 can of Cannellini beans, drained and rinsed

½ of a small white or red onion

1 cup of cherry tomatoes, halved

Juice of 1 large lemon

1-2 garlic cloves, chopped

¼ cup fresh oregano, chopped

¼ cup fresh basil, chopped

Salt to taste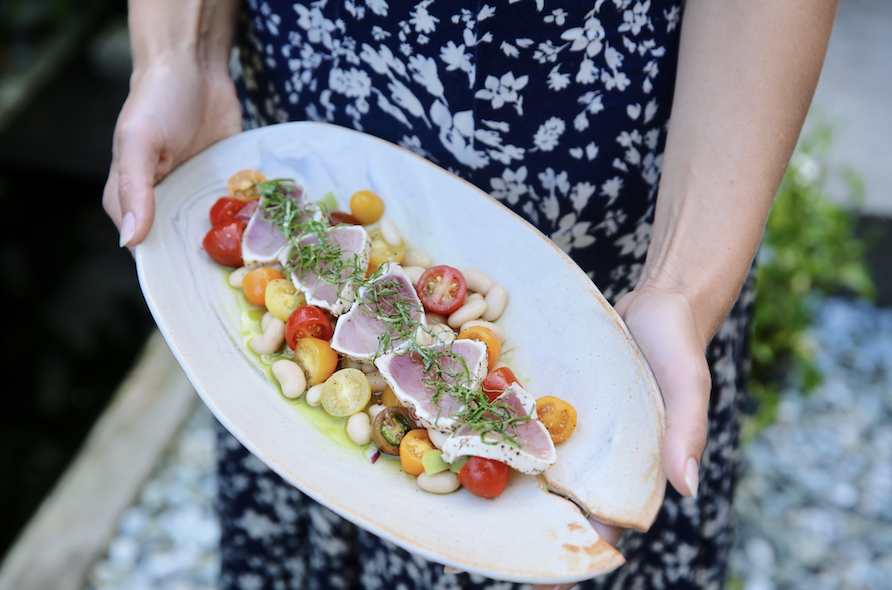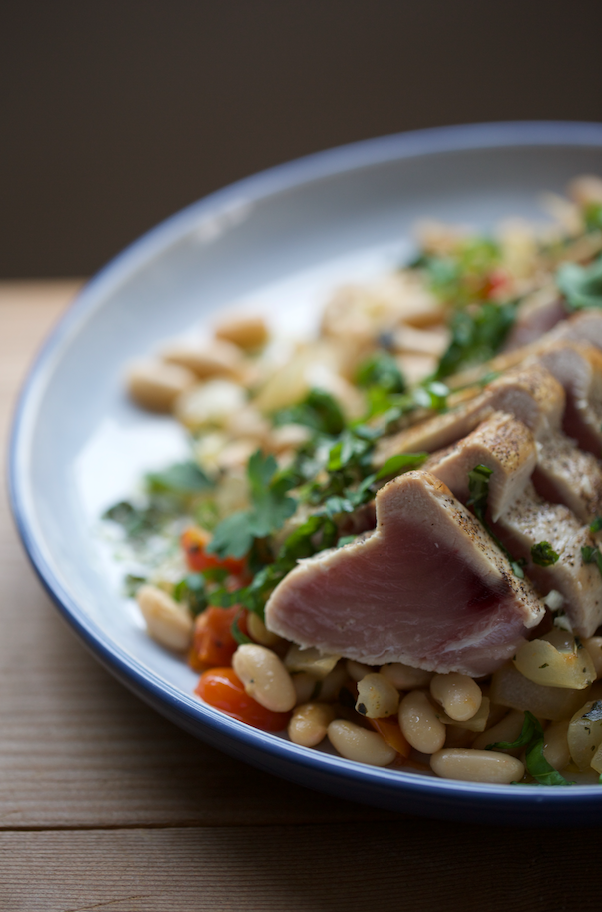 For dressing:
Add lemon juice, half of the chopped garlic, half of the chopped oregano, and salt to a small dish.

Whisk in olive oil

Set a side or place in fridge
For tuna:
Thaw out of plastic or 2-3 hours either at room temp or in your fridge

Pat dry with paper towel and season with salt and pepper or any seasoning of your choice

Add oil to a nonstick or cast iron pan

Sear tuna (20 sec a side) on high heat

Remove once all sides ave started to turn white

Remove from pan and allow to cool for 2-3 min before slicing
Options to serve warm or cold
For the cold salad:
Simply pour dressing over halved cherry tomatoes, rinsed cannellini beans, and diced red onions.

Plate seared tuna loin on top & enjoy!
For the warmed bean salad:
Add olive oil to a sauce pan on medium heat

Add onion and the remainder of garlic & oregano

Once fragrant, add Calabrian chilies and cherry tomatoes

Once cherry tomatoes have begin to break down, add rinsed Cannellini

Once beans are warm, transfer everything to a serving dish

Place sliced tuna on top, drizzle with dressing, and garnish with basil

Enjoy!
SHOP OUR TUNA