Main:
1 ½ lbs Spring Salmon skin discarded and cut into 1-inch pieces

½ lbs bacon (optional)

4 tbsp Unsalted butter

3 Stalks celery, minced

1 small onion, minced

1 jalapeño, thinly sliced

1 bunch scallions, finely chopped

4 garlic cloves, minced

4 cups seafood stock

2 large russet potatoes, peeled and cut into one inch pieces

1 ½ tsp salt

½ tsp black pepper

1 tbsp cornstarch

2 cups frozen corn

2 cups heavy cream

Chives for garnish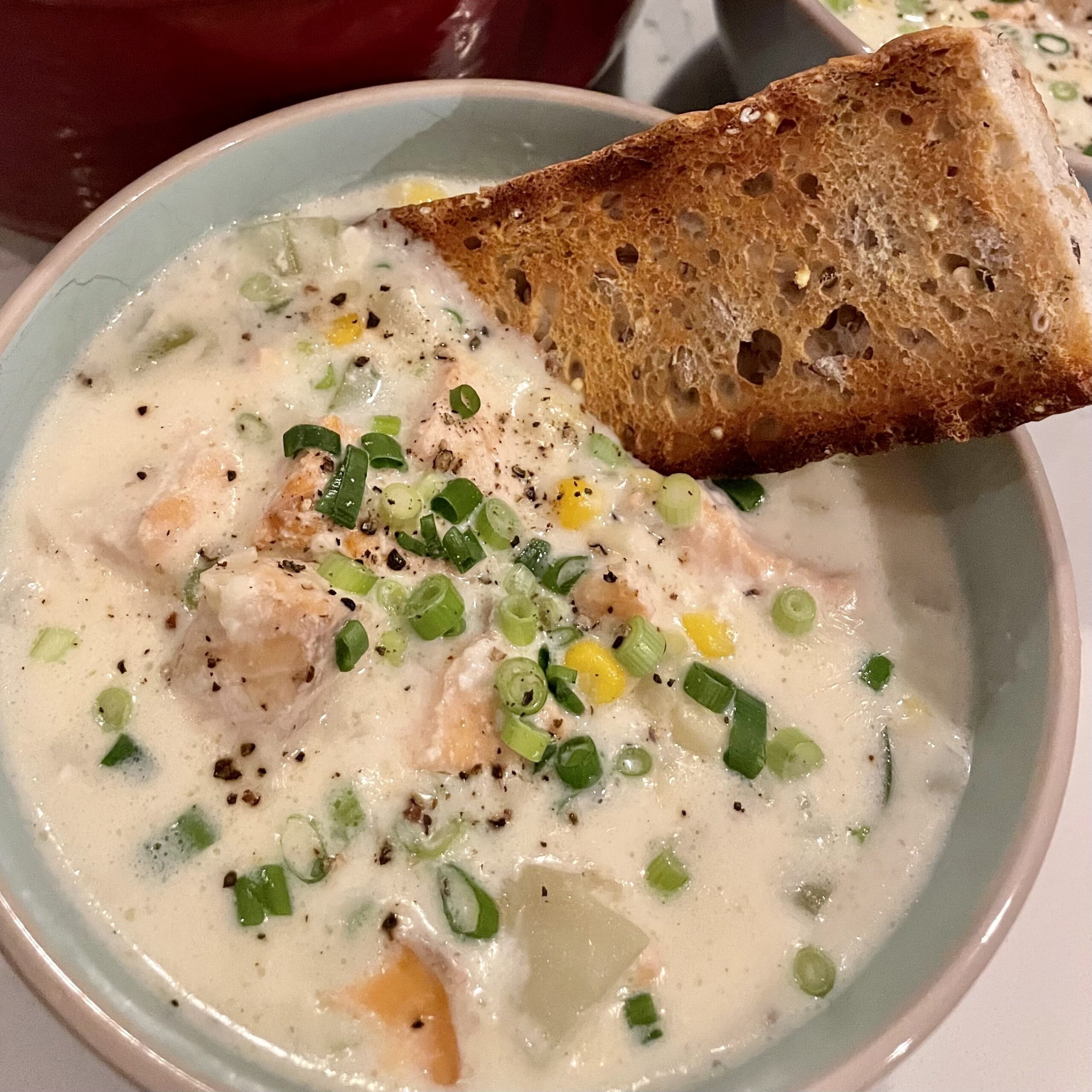 In a large, heavy stock pot, melt butter over medium heat. Add the bacon and cook (if you're not using bacon- skip to step 2).Stir until bacon begins to crisp, about 8 minutes. Once cooked, remove bacon from the pan and set aside.

Add celery, onions, jalapeños, scallions and garlic to your pot. Stir often, until softened, about 8 minutes. Add the broth, potatoes, 1 teaspoon salt, pepper and cooked bacon. Bring to a simmer and cook until the potatoes are tender, about 15 minutes.

In a small bowl, whisk cornstarch and two tablespoons of water to form a slurry. Stir the cornstarch slurry into the broth and bring to a boil. Let the soup boil for about 2 minutes to thicken slightly.

Turn the heat down to a gentle simmer, and stir in the corn and heavy cream.

Place the salmon pieces on top of the simmering soup, season it with ½ teaspoon of salt, and cover the pot with a lid. Simmer for ten minutes, or until the salmon is cooked through.

Top with fresh chives or extra scallions and freshly ground black pepper.

Enjoy!