Main:
1/2 lb Mitch's Catch Halibut, diced small

1/4 lb Mitch's Catch Spot Prawns Tails, peeled and deveined, diced small

1/4 lb scallops, diced small (optional)

1 ½ cup lime juice (preferably key lime; about 40 key limes or 16 limes)

2 serrano chilies, seeded, diced small

½ avocado, diced small

½ Roma tomato, seeded, diced small

¼ medium bell pepper, diced small

1 green onion, thinly sliced

¼ cup chopped fresh cilantro

1 ½ tsp salt

1 tbsp extra virgin olive oil
For serving:
1 head gem lettuce (or you can use baby romaine or baby Bibb leaves) or 4 cups tortilla chips
COOK'S NOTE: Dicing all the seafood into a uniform size will ensure it marinates evenly. Dice the vegetables a little smaller than the seafood.
Serves 6-8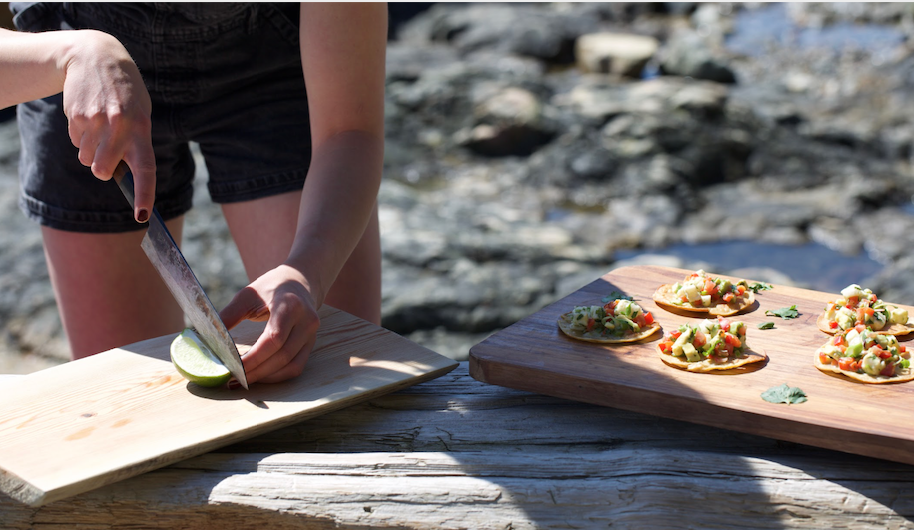 From SoBo cookbook: The last thing you want to do on a summer day is spend a lot of time in a hot kitchen. This dish requires no heat and is so quick and easy (although it needs to be prepped a couple of hours in advance) that you can get right back outside to enjoy the sunshine. This recipe is a lazy Sunday favourite in my household. Ceviche is best eaten within 12 hours of preparation, so keep your batches small. Using only the freshest seafood available is key.
Combine the halibut, prawns, scallops and lime juice in a medium-sized bowl and marinate for 2 or 3 hours in the refrigerator. The marinating is the cooking-the citric acid in the lime juice changes the texture of the fish to that of cooked while retaining the "raw" taste – no heat is used.

Drain off the lime juice and discard. Carefully fold in the chilies, avocado, tomato, peppers, green onions, cilantro and salt. Keep the ceviche well chilled until you are ready to serve.

To serve, drizzle extra virgin olive oil over the ceviche and use them gem lettuce leaves or tortilla chips to scoop it up and enjoy.