OLESIA'S HALIBUT CHEEK LETTUCE BOATS WITH ROMESCO SAUCE
Main:
1 lb Mitch's Catch Halibut Cheeks

Extra virgin olive oil (EVOO)
For romesco sauce:
16 oz jar marinated roasted peppers, drained

1/2 cup sliced almonds

1 small fresh plum tomato or 4 petals of sun-dried tomato, rehydrated in hot water

1 tsp sherry vinegar

1/2 tsp salt

1 tsp smoked paprika

1/8 cayenne pepper

1 garlic clove, chopped
For serving:
2 scallions, cut in half lengthwise, then crosswise

1 tbsp lemon juice

8 firm small lettuce leaves or endive leaves (endives are preferred as they better hold their shape)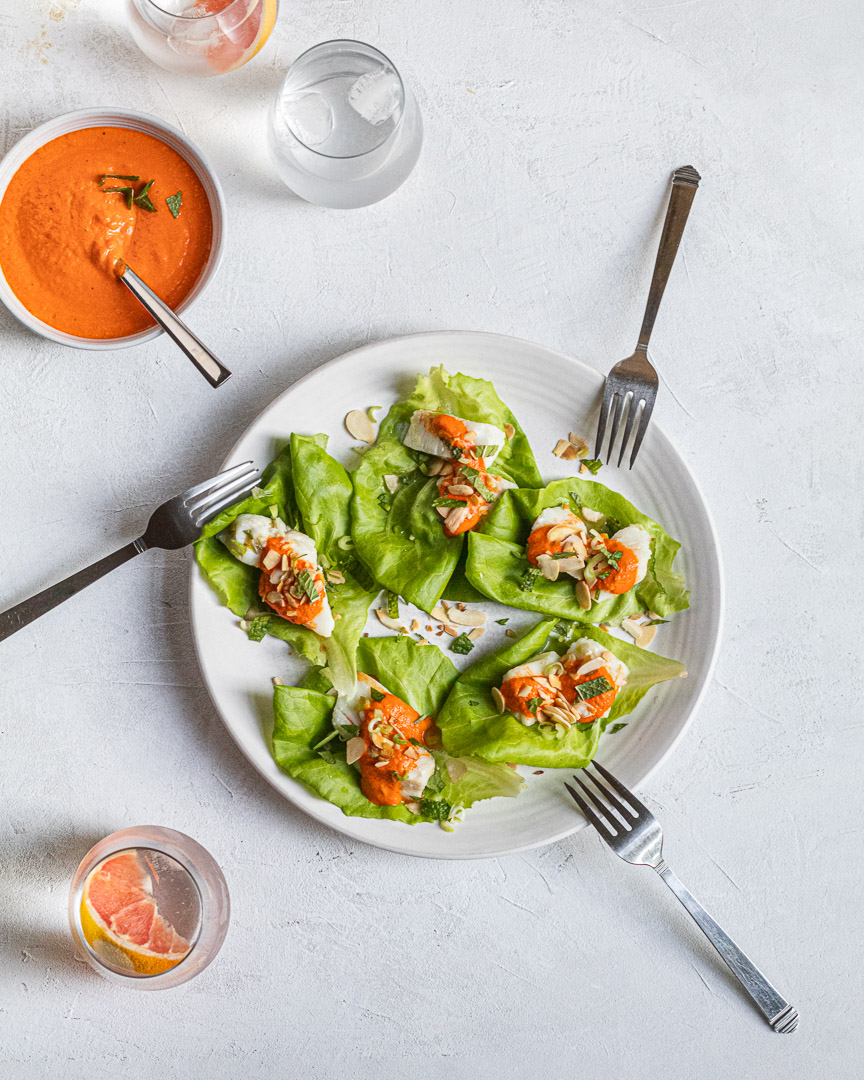 Leave halibut cheeks to thaw in the fridge for at least 5-6 hours, ideally overnight. Once thawed, place on a few layers of paper towel to absorb excess moisture. Remove cheeks from the fridge ~30 minutes before cooking.

For the sauce, toast almonds over medium heat until golden. It happens very fast, so monitor them closely and stir every 30 seconds not to burn. Once golden, transfer to a plate. Reserve 2 tbsp of toasted almonds for the garnish.

Quarter and deseed the tomato, if using a fresh one. Heat 1 tbsp EVOO in a small pan over medium heat. Add tomato petals and cook, stirring occasionally, until they turn brown and «jammy» (think slow-roasted tomato texture). It should take about 3-4 minutes.

Once cooked (or rehydrated), place tomatoes in a blender or kitchen processor along with the rest of the sauce ingredients. Blend until smooth, add more salt if needed, and set aside.

Over medium-high heat, preheat a dry pan and, once hot, add scallions. Cook for 2 minutes, until slightly charred. Remove and finely chop, then mix with 1 tbsp lemon juice and a pinch of salt in a medium-sized bowl. Set aside.

Cut halibut into ~2-inch pieces. Heat 2 tbsp EVOO in a large, preferably non-stick pan over medium heat. Place halibut cheeks in the pan leaving a couple of inches of space between them (if the pan is too crowded the cheeks will start boiling). Cook on one side until opaque, about 2 minutes. Flip and cook for another 1-2 minutes, until just cooked through. Transfer to a bowl with scallions. Salt to taste and mix thoroughly.

Spoon halibut cheeks into endive or lettuce leaves. Top with plenty of romesco sauce, toasted almonds, and fresh herbs of choice, and enjoy!
Prepared, shot & styled by the talented chef, Olesia Guts.