Main:
1/4 cup olive oil

1 small onion-diced

1/2 fennel bulb-chopped

2 cloves garlic chopped

3 ounces Pernod

1 tbsp dried tarragon

1 tbsp dried basil

4 cups fish stock

2 tsp salt

1 tsp dried chilli flakes

1 lb Mitch's Catch Spot Prawns Tails-shells on

1 lb seafood (we use Mitch's Catch Halibut, Red Snapper, Black Cod, Side Stripe Shrimp)

1/2 cup chopped Italian parsley
Serve with (optional):
Garlic bread or toasted sourdough (we like Bad Dog Bread)
Recipe adapted from Ocean Wise Cookbook.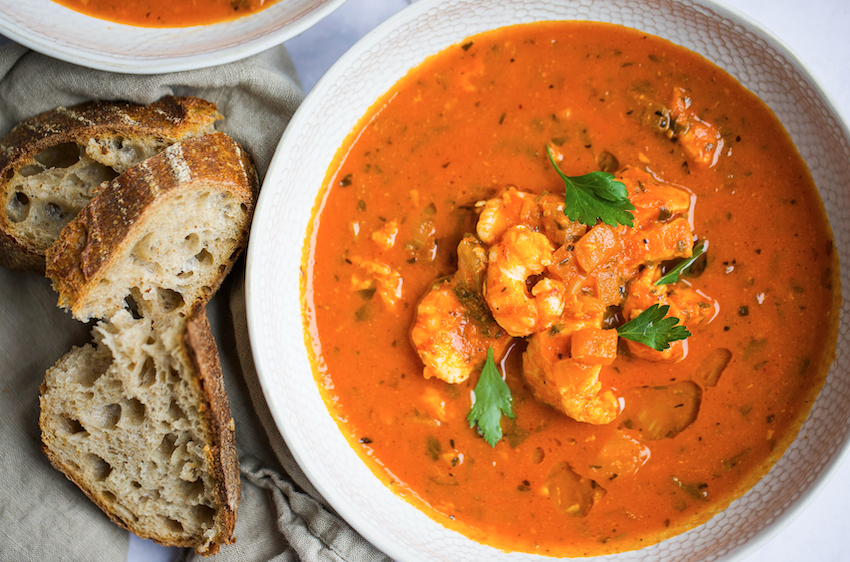 In a large pot, heat up olive oil and sauté fennel and onion until soft.

Add garlic, and sauté for one minute, then add the Pernod and flambé it.
The best way to flambé is to remove from heat, and with a barbecue lighter, light the mixture and return to burner when flame burns out (be careful).

Add the roasted tomatoes , dried tarragon, basil and the stock to the pot. Break up tomatoes with a wooden spoon and simmer for 12 minutes.

Add the salt and chilli flakes and the seafood and poach for 5-7 minutes.

Serve with garlic bread (perfect for dipping!). Enjoy!