HALIBUT STICKS WITH PEA PUREÉ
Halibut Sticks:
1 lb Mitch's Catch halibut fillets, cut into 6 symmetrical batons (stick shapes)

Kosher salt

1 quart canola oil

2 cups all-purpose flour

4 eggs

5 cups panko breadcrumbs, crushed into finer crumbs

Sea salt

1 lemon, zested

Optional garnish: parsley
Pea Pureé:
1 (32-ounce) package frozen peas, thawed in microwave about 5 minutes (or fresh cooked peas)

6 sprigs fresh mint, leaves and softer stems only

1 1/2 cups plain Greek yogurt

2 cloves garlic, peeled and roughly chopped

1 teaspoon kosher salt

1 teaspoon rice wine vinegar
Tartar Sauce (Optional):
5 eggs, hard-boiled and chopped

1 cup finely chopped dill pickle

1/3 cup finely chopped red onion

2 tbsp chopped capers

1/2 cup chopped parsley

1/2 cup chopped dill

1 tbsp Dijon mustard

1 tbsp grated garlic

1 tsp freshly cracked black pepper

1/4 cup mayonnaise, preferably Kewpie

Kosher salt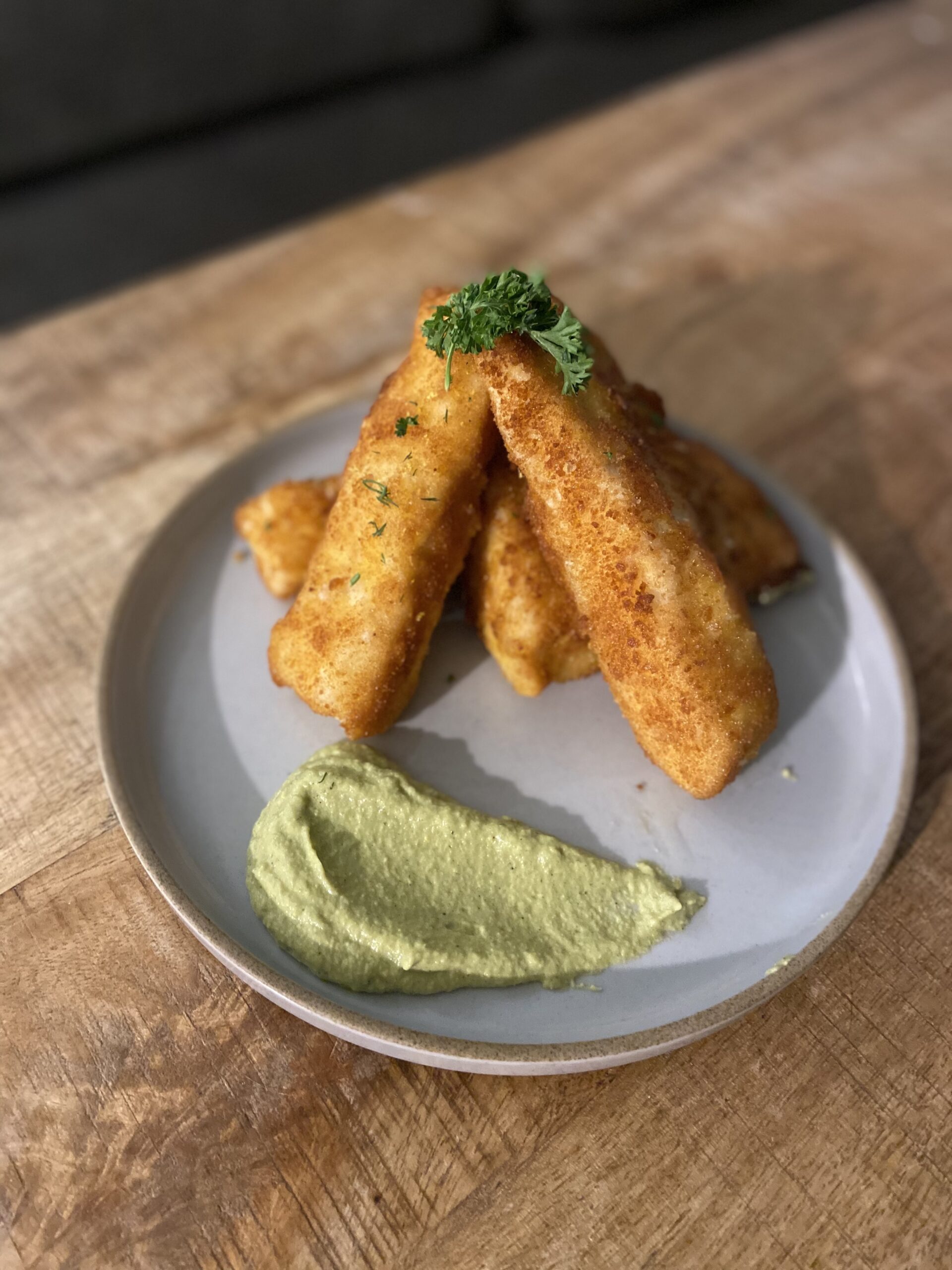 Halibut Sticks:
Season your Mitch's Catch halibut with salt on all sides and place on a wire rack. Let the halibut sit on the rack for 30 minutes to come to room temperature.

Heat the canola oil in a large Dutch oven over medium-high heat to 350 F.

Put the flour in a shallow bowl and season with 1 teaspoon salt. Beat the eggs in a second shallow bowl and put the panko in a third shallow bowl. One piece at a time, drench the halibut in the flour, then dip into the egg wash to completely cover the halibut. Scoop the halibut out, pausing for a second to allow excess egg wash to drip off. Place the halibut into the bowl with the panko and give it a quick toss to coat the fish.

When the oil comes up to temperature, add the halibut and deep-fry until golden-brown, about 5 minutes. To test for doneness, use a cake tester to check that the halibut is hot in the middle. Take out the fish sticks using a metal spider and place on a wire rack or paper towel– lined plate; sprinkle with sea salt and the lemon zest.

Stack the halibut sticks in log cabin formation on a piece of butcher paper and add a dollop of pea pureé or tartar sauce.

Optional: garnish with parsley.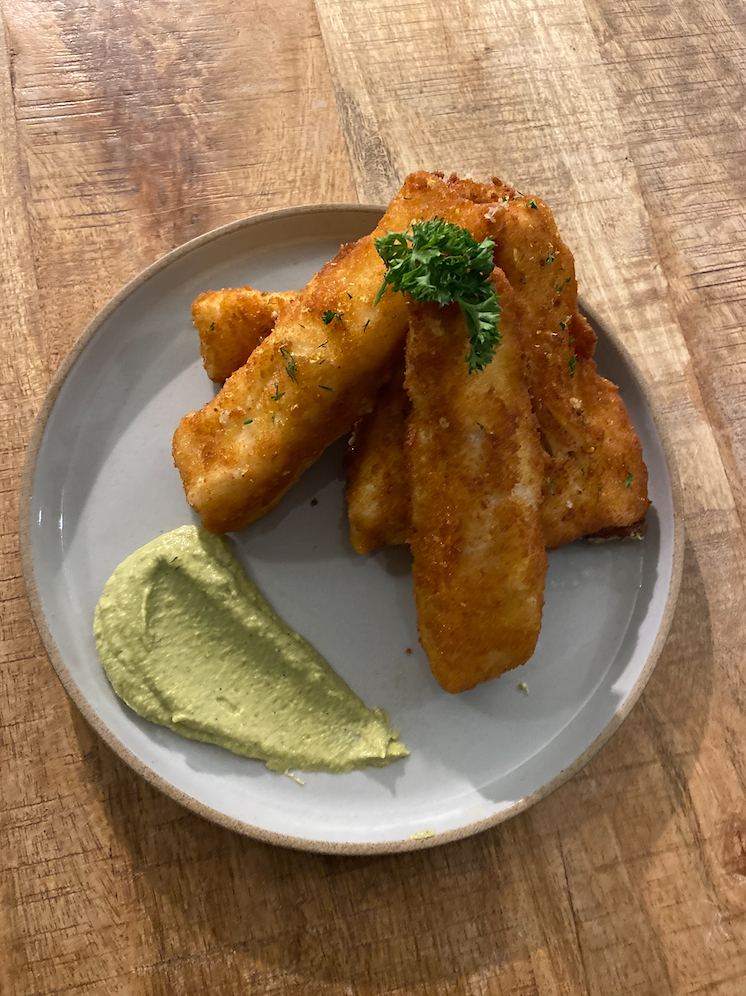 Pea Pureé:
Throw all the ingredients into a food processor and mix until smooth. Done!
Tartar Sauce:
In a medium bowl, combine the hard-boiled eggs, dill pickle, red onion, capers, parsley, dill, mustard, garlic and pepper.

Add the mayo one spoonful at a time until the mixture is lightly bound together and has a chunky-creamy consistency.

Season with salt.