Main:
1 tbsp olive oil

1/2  yellow onion, diced

2 tbsp Chili P – more as desired (available at The Market)

3 chorizo sausages, uncooked casings removed

1 handful kale – chopped, stems removed

Splash of dry white wine (optional)

1 cup farro, cooked per instructions (we love Flourist, available at The Market)

1-540 ml can of white kidney beans, rinsed and strained

3 tbsp parsley, chopped

2 pieces of stale bread

1 tbsp mayonnaise

salt & pepper, to taste

4 Mitch's Catch Halibut fillets

4 lemon wedges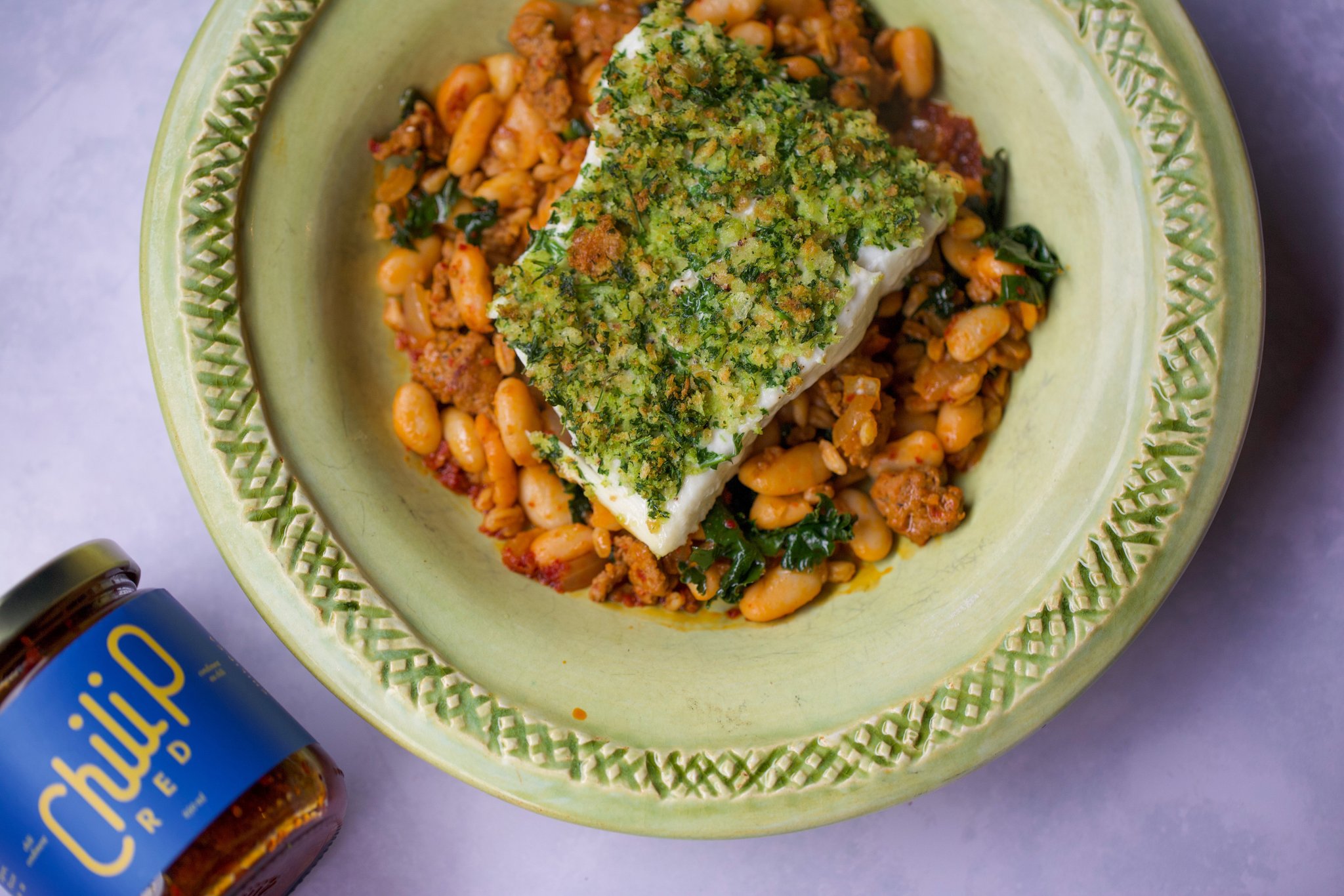 Preheat oven to 375 F.

In a large skillet over medium high heat, heat oil.  Add in your onions and sauté until translucent, about 5 to 7 minutes.  Add in desired amount of Chili P and the chorizo.  Using a wooden spoon break apart the chorizo meat as it cooks.  Once the chorizo meat is cooked and broken down into small pieces, add the kale and sauté for another 5 minutes.

If you plan to add the wine, add a splash at this point and cook for 5 minutes.

Reduce the heat to low and add in your farro and white beans.  Simmer on low covered with a lid while you prepare your fish.

In a small blender or food processor, blend parsley and bread until small crumbs.

Using a pastry brush or the back of a spoon, brush a thin layer of mayonnaise onto the top side of each piece of halibut.  Season the fish with salt and pepper.  Gently press the crumb mixture onto the top of the fish so it sticks and forms a crust.

Place each piece of Halibut, crust side up, on a lined baking sheet.  Bake for 5-7 minutes (depending on thickness of fillet) or until just opaque on the inside.  Turn the oven on to broil for the last minute or until crust is golden brown.

Serve on top of farro mixture.  Garnish with extra parsley and a lemon wedge.