MC Whipped Ricotta Crostini
1lbs Mitch's Catch Spot Prawns and/ or Mitch's Catch Smoked Tuna

1 1/2 cups fresh ricotta cheese

3-4 tbsp good-quality extra-virgin olive oil (plus more for the bread if making crostini yourself)

1-2 tbsp of your favourite herbs, chopped (we recommend dill and chives)

Juice of 1 lemon (half for the ricotta, half for the prawns)

1 clove of garlic, minced (for prawns)

Flakey sea salt & black pepper to taste
Optional:
Crostini crackers (these ones are our favourites!)

Sliced radish for garnish (for smoked tuna)

Chives for garnish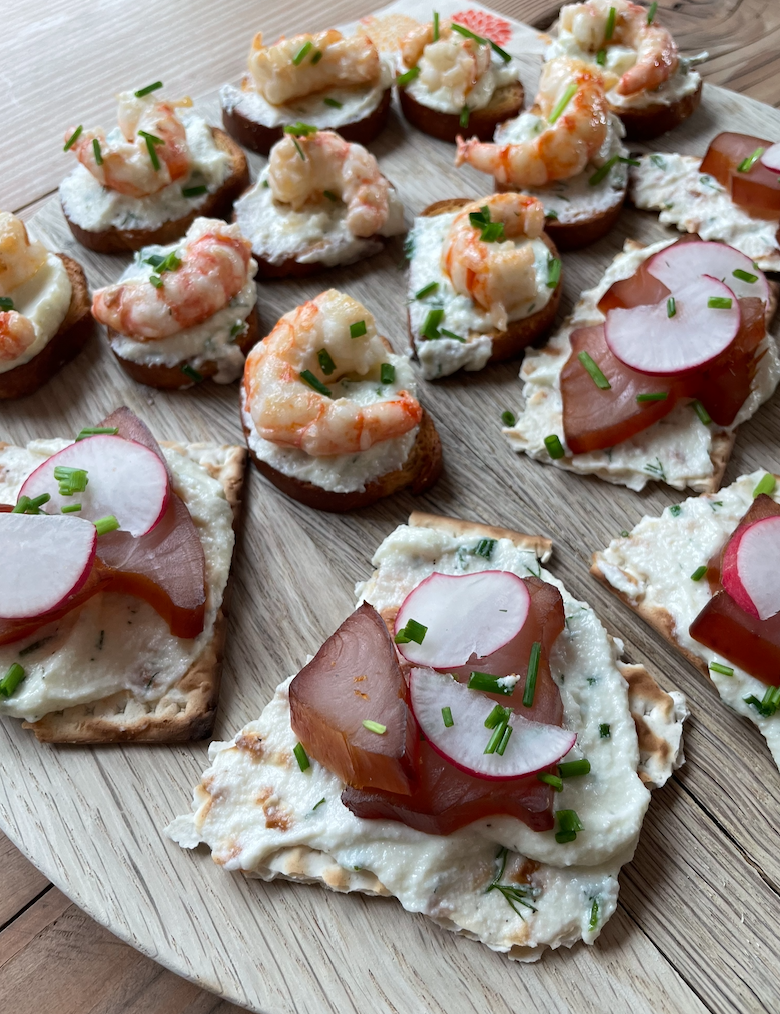 Using an electric mixer or food processor, whip the ricotta until light and airy, about 2 minutes.

Transfer to a bowl and use a spoon to create a well in the centre. Fill with 2 tbsp olive oil.

Sprinkle with fresh herbs, salt and pepper, and squeeze half the lemon – mix well with a spoon and place in fridge while completing next steps.

FOR SMOKED TUNA: cut into ½ inch slices. We recommend slicing while the smoked loin is still partially frozen.

FOR SPOT PRAWNS: peel the prawns and pat dry. In a large skillet heat 1 tbsp of olive oil. Once hot, add minced garlic and sauté. Once fragrant add spot prawns and cook for about 20-30 seconds per side. Salt well and squeeze the other half of the lemon just before removing from the plate.

To plate – spread a healthy layer of the whipped ricotta on your crostini, bread or cracker, place tuna or spot prawn, and then garnish with your favourite herb or veggie garnish (we used radishes and chives).

Enjoy!